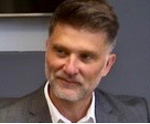 Neil Harvey MIT, has worked within the hair sector for nearly 40 years – and has run educational programmes within hair salons and colleges.
Neil has contributed to many online articles for various hair loss websites, and provided professional advice and support for numerous hairpiece manufactures and suppliers and their clients, as well as on-going clinical support for many patients of hair transplant surgeons.
Neil operates from four UK trichology clinics and acts in an advisory and educational role for various companies, inc: Medicauticals and Oway.
Neil is an avid attendee at many CPD (Continuous Professional Development) events across the UK, rarely missing an opportunity to learn from other professionals – some of which are in different but related areas of health care.
Early in his career, Neil realised that hair and hair 'health' could be of profound psychological significance for both men and women, seriously affecting confidence and well-being – and this is why he is proud to be a Member and Director for 'The Institute of Trichologists'.