The Institute's Scalp and Hair Clinic
10 Harley Street, London, W1G 9PF
We offer Trichology Consultations at our Clinic at 10 Harley Street, London on Saturdays and Wednesdays, by appointment only. Our clinic is operated by a selection of our Registered Trichologist Members.
The conditions that are commonly treated in our clinic are; Male pattern baldness, Female hair loss, Patchy hair loss, Diffuse hair shedding, Seborrhoeic eczema, Contact dermatitis, Psoriasis, Scaling conditions, Itching scalp, Folliculitis, Scalp Infections, and textured curly hair conditions.
Please book your appointment below. If you cannot find a suitable appointment, or if you have any questions, please feel free to contact us on clinic@trichologists.org.uk, or call us on 020 4532 6465.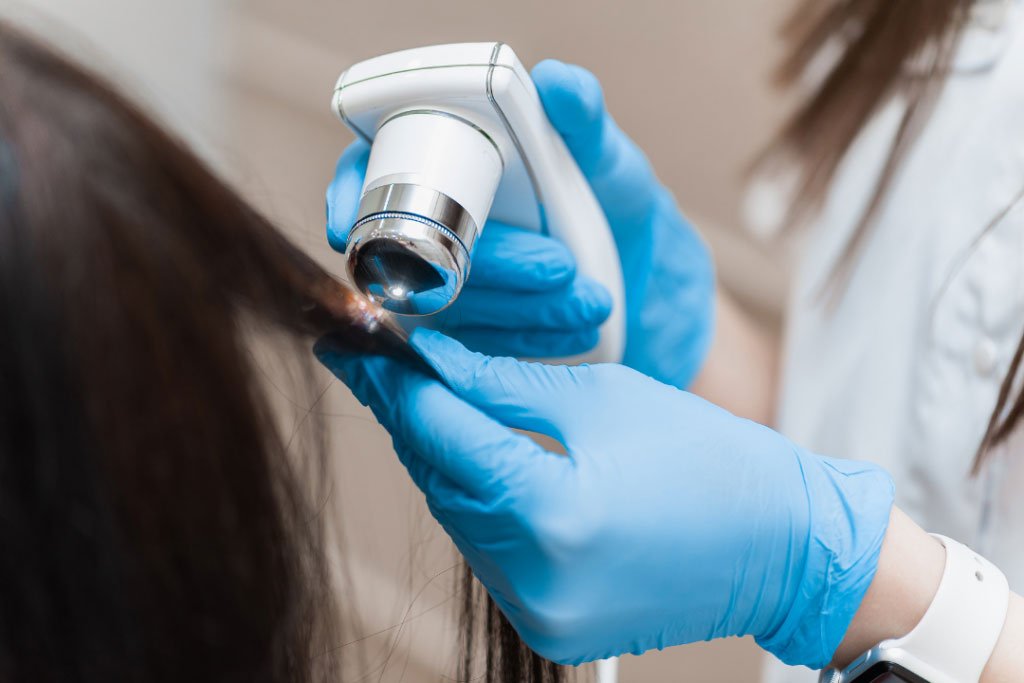 The consultation process is very thorough and may take up to an hour. During the consultation all aspects of your scalp/hair problem will be discussed at length to determine the correct diagnosis of your condition. The Trichologist will go through your full medial history, and discuss a range of aspects of your lifestyle. This can include: your diet, family history, any stress you may be under and any medications you may be on. The Trichologist will then conduct a thorough examination of your hair and scalp, which may include the use of a scalp microscope or magnifying glass.
The Consultant will explain the nature of your disorder, give specific advice, answer your questions, and if necessary suggest a treatment regime. We will write to your GP requesting certain blood tests or sometimes to a specific medical specialist for further investigation if required.
The clinic is able to offer scalp and hair treatments if prescribed. Specialist trichological preparations are used during treatment and can be purchased for use at home if desired. Treatment is not suggested unless the consultant feels it necessary or beneficial and patients are never asked to pay for a course of treatment in advance. The clinic conforms rigidly to the strong ethical code of the Institute.
If you would like to help and support our students by having consultations and treatments on student training days, please contact our admin team on admin@trichologists.org.uk for more details.
Please note, due to the current climate, we are currently asking that payment be made for appointment upon booking. Should you wish to cancel your appointment for whatever reason, we will refund the cost of your appointment, as long as it falls within our cancellation policy. We have a 48 hour cancellation policy (appointments must be cancelled 48 hours or more before the scheduled appointment). Refunds for the cost of the appointment may not be offered if cancelled within 48 hours of the appointment.
Please note, we will send you a confirmation email to confirm your appointment. If you do not receive a confirmation email within 1 working day of booking your appointment, please check your junk folder, and if not, contact us on clinic@trichologists.org.uk.