The Institute of Trichologists is the foremost professional association for trichologists in the World, the largest provider of trichology training in Europe and the longest established body of its type.
The Institute of Trichologists provides a two and a half year distance learning course backed by clinical practice. The Institute's course is academic and scientific in nature and requires a positive and continuing commitment to the course by the student.  The progress, aptitude and attitude of each student will be closely monitored throughout the course.
The Institute of Trichologists course comprises of 3 parts:
Part 1 – Foundation Level (6 months)
Part 2 – Intermediate Level (12 months)
Part 3 – Final Level (12 months)
The entire course is structured to take two and a half years to complete and to prepare students for entry into clinical practice, it provides students with "The Level Five Diploma in Clinical Trichology". This qualification is accredited by the Institute of Trichologists and NCFE. Once complete candidates are able to practice as clinical trichologists and become members of the Institute of Trichologists.
NCFE Customised Qualification
NCFE awarded The Institute of Trichologists with centre approval which demonstrated the high level of quality assurance processes and high standards as an education provider. NCFE are an awarding body who specialise in Healthcare & Science providing qualifications such as nursing, midwifery, pharmacy and dentistry. NCFE qualifications are delivered worldwide.
NCFE accreditation makes the IOT the only training body to offering this clinical education and qualification at level 5. The Level 5 Diploma in Clinical Trichology is a customised qualification, demonstrating the quality and rigor of the Institute of Trichologists' course.
Certificates will hold the NCFE logo in addition to the Institutes re-enforcing the quality of the training provided.
Foundation Course in Trichology
The foundation element of the course is six months study and is delivered completely online, designed as a distance learning programme. The foundation level or also known as the Introduction to Trichology is designed to be part of our whole course but can be taken by candidates in isolation as a standalone course e.g. some students may wish to learn about trichology but do not necessarily wish to be a practicing Trichologist. Candidates who wish to only upskill their knowledge and currently work in the scalp micropigmentation field, wigs, hairpieces or similar fields may find the foundation level course will suit them. We do hope however, that the majority of students continue their learning and complete the whole course which leads them into clinical trichology practice.
Ideally, applicants will be educated to 'A' level standard or higher and should have specific interests in scientific and health related subjects. The Institute of Trichologists may consider mature applicants who do not fully meet the educational entry requirements but who have gained significant relevant transferable skills in the workplace and can demonstrate an aptitude for the profession.
Completion of the foundation level alone will not qualify candidates as a consultant Trichologist but may appeal to those who wish to undertake continuous professional development or upskill their knowledge. Candidates are encouraged to progress onto the two-year course in order to complete the full level five program and to become a practicing Trichologist.
Our education and training is currently offered to students worldwide. We hold an impression membership portfolio of Trichologists across all four continents of the globe.  International students are offered block clinical training to reduce frequent travelling to the UK. Block clinic training takes place in London over a period of one week. 
The course aims to equip students with the skills and knowledge needed in order to work as a clinical Trichologist. The ethos of the course is to support and develop students to achieve a career in whatever aspect of trichological practice they choose.
The overall aims of the programme are to:
– Develop knowledge, understanding and application of theories and concepts of trichology
– Develop personally and professionally within contexts appropriate to the vocational sector, whilst developing and increasing independence in learning
– Develop reflective skills with which to academically and professionally reflect and learn from workplace experiences by applying relevant theory through consultations and clinical practice 
– Enhance the employability and career prospects of learners within the world of trichology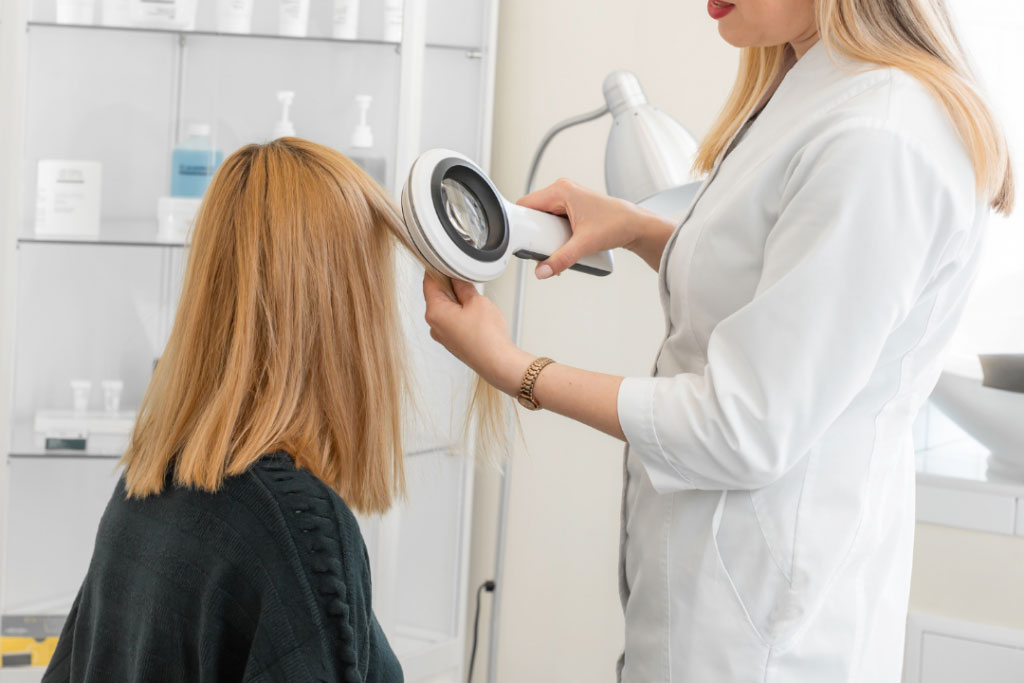 The course is delivered mainly by home-based distance learning and is entirely self-contained. That is to say students are not expected to have to purchase additional books or teaching materials; all of the written and academic material you need for the course is contained in the books, learning modules and tutor handouts supplied by the Institute. Clinical training sessions in London are a compulsory part of the course.
Although the course requires great commitment and motivation on the part of the student, it is not intended to be a full-time course. Almost all Institute students are mature, and most are also in full-time employment or undertaking family commitments and responsibilities (in some cases both).
Due to the impact of COVID 19 we have invested in remote working platforms and are looking to offer more Webinar based education and possible block clinical training days to limit travel for our Students. As we develop this new way of providing education we will provide regular updates to our existing and prospective students.
Continuing your education...